At the latest since the second Corona wave, the virtual trade fair has arrived in the German economy. At the beginning of the pandemic, according to an IPM study, it was still inconceivable for up to 65 percent of companies in Germany to participate in an online trade fair. In the meantime, corresponding events have been accepted by more than three quarters of the companies - and the trend is rising.
No wonder, because as we already noted in our article "Virtual trade fair - advantages and disadvantages of digital events for companies", a digital trade fair stand offers clear advantages:
For example, massive amounts of effort can be saved.
Communication in video meetings via live stream or live chat is often more uninhibited.
In addition, visitor tracking and KPI reporting in combination with marketing automation, automated lead profiling and lead nurturing via email marketing allow for highly efficient follow-up.
Last but not least, a digital trade fair still offers considerable unique selling proposition potential on various levels.
However, companies can only benefit from all this and more if the trade fair concept or showroom concept is approached correctly.
Why is it important to design the virtual trade fair holistically, around the user experience?
A visit to a conventional trade fair is an experience - or at least it should be. An enormous number of stimuli affect trade fair visitors, continuously triggering new impressions and associated actions. Optimally, exhibitors manage to anchor their goods or services in the minds of the visitors in the long term. To achieve this, trade fair operators can draw on immense technical and marketing possibilities. At a real trade fair, all the senses are addressed: Innovative trade fair buildings impress, videos or interactive platforms inform, speakers give deeper insights into products as well as the latest developments in the industry, exhibits can be tested directly and the smell of food, but also more and more specific scent marketing are in the air.
One of the great challenges of the digital trade fair is to transfer as many of these positive effects as possible to the virtual trade fair stand. Since only two senses - sight and hearing - are generally addressed at the virtual trade fair instead of all four, the options are naturally limited.
On the other hand, however, completely new opportunities arise to literally carry away participants of such an event. Finding the right mix here, more precisely aligning a digital trade fair not only close to a real event, but also creating outstanding impressions that a conventional trade fair may not be able to offer, is hardly possible without a differentiated concept.
In this context, feel free to take a look at the article "How to organize a virtual trade fair stand: What do organizers need to consider?".
What should be considered in the trade fair concept for maximum trade fair success?
Just as with the real trade fair, the trade fair concept in the digital area is of course to be designed individually from company to company. Nevertheless, there are some points that every virtual trade fair operator should consider. We show these in the following.
1. before the virtual fair
Exhibitors who do a massive amount of advertising in the run-up to a digital event ultimately benefit from the most stand visitors and, as a result, the most leads, significantly bolstering their acquisition of new customers and achieving the best success in digital selling.
2. during the virtual fair
Once you have managed to attract many visitors to your digital trade fair, the work is of course far from done. It is important to convince the participants comprehensively and to provide them with the best possible user experience on their customer journey. Ideally, this will achieve exactly the interactions and conversions that the exhibitor is aiming for.
Today, it should definitely be possible to experience a virtual trade fair on the move. The reason for this is relatively simple:
Among the biggest advantages of a digital event over a real one are its location and time independence. If the target group can also enjoy the virtual trade fair experience on the move and at any time on mobile devices, this can be an important bonus that significantly boosts the acceptance of the event.
Mobile-friendliness is achieved most efficiently through a responsive design. With the help of this technical orientation, all trade fair features are automatically adapted to the screen sizes of the devices of individual visitors.
This in turn can contribute massively to ensuring an all-round positive user experience.
From the previous point it is already clear that the success of a virtual event strongly depends on how visitors can participate and what experience they have here together with the company. Technical difficulties are to be excluded at all costs and in general it is very advantageous if guests can easily find their way around or use all functions without major explanations.
The usability during the online trade fair should be intuitive. If a complicated manual has to be read in advance, many interested parties are already deterred and may not even want to spend the time to learn the functions of the trade fair stand. In the worst case, many initially registered participants stay away altogether or quickly drop out again during the visit.
Personal contact with interested parties and customers, which is a key success factor at real events, is at least partially transferable to the virtual trade fair. Here, at best, real or interpersonal moments in video meetings, chats or question-and-answer sessions in the course of presentations are linked with digital online experiences. The personal component creates special potential for long-term, strong customer relationships. The chance of closing deals and repeat sales in general increases significantly when (potential) customers know their counterpart - whether as a salesperson or as a brand in general - and perceive them as close and directly addressing their needs.
Interaction is often key here. It increases the attention of visitors and keeps them glued to the displays of their smartphones, notebooks, etc. Once interaction has taken place, personal contact is all the more likely. Initial barriers and inhibitions are broken down here.
Options to force interaction are plentiful at a digital trade fair. Furthermore, it is worthwhile to immerse the trade fair visitors in your own company history and product world. Storytelling has a very lasting emotional and informative power here. Stories not only attract attention and enable visitors to identify themselves, they also remain in the memory for a long time.
3. after the virtual fair
Daten für die Kundenakquise und -bindung nutzen
In fact, virtual trade fairs offer many possibilities that make modern online marketing so effective and economical. The tracking of visitors or KPI reporting, digital selling and the integrability of other business-critical applications, which can be used for very efficient marketing, are particularly interesting.
Marketing and also sales can benefit greatly from data collected before and during a digital trade show.
For example, it is possible to create a connection between a virtual trade fair, CRM and marketing automation and to use the applications to play out precisely tailored, automated campaigns to communicate with (potential) customers.
This offers the opportunity to automatically transfer every contact that was made at the trade fair to the marketing automation system via an interface and to use targeted e-mail marketing there in an extremely expedient manner.
In fact, this is by no means the end of the story. For more detailed information on specific marketing and sales benefits, we recommend our article "Digital trade fair stand: Obtaining and effectively using visitor data".
Why is virtual booth the ideal platform for the successful virtual trade fair concept?
As a digital platform for holding virtual trade fairs and other online events, virtual booth offers the best conditions for implementing a promising concept.
This virtual trade fair provider offers companies a wide range of extremely useful options for conducting dialogues with event participants and selling goods and services digitally.
In addition, virtual booth has comprehensive visitor tracking functions on board. The efficient and automated further processing of data in lead nurturing via marketing automation is possible without great effort.
In addition to the extensive sales and lead management options, the visual presentation of products on a virtual booth exhibition stand is not neglected. Another massive advantage is that virtual booth focuses specifically on the German-speaking region. The solution is made and hosted in Germany. Users can therefore rely on an interface and customer service in German. Furthermore, all processes comply with German and European legal requirements.
For more details, please visit the virtual booth info page.
A virtual event is an online experience which, with the right implementation, can arouse interest, but also remain in the visitor's memory and thus have a lasting positive effect.
If you implement the tips described here, you will have a good basis for getting the most out of your virtual trade fair presence.
Also, keep in mind that with the acceptance of virtual trade shows already very much advanced by Corona, it's certainly not the end of the road. Depending on the industry, virtual events will probably become an important focus for sales activities in the near future, if not as a stand-alone trade fair, then most likely as a supplementary medium to the real trade fair.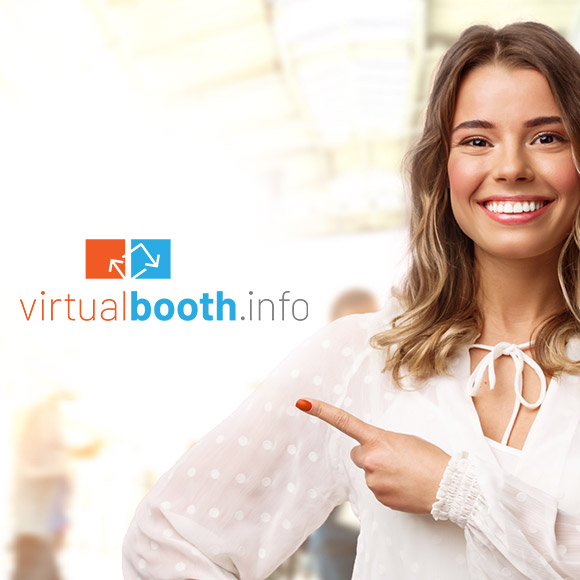 Learn how to
how you can compensate for trade fair cancellations and restricted customer access
and generate added value with our smart "virtual booth" solution.
Kundenzugang über die digitale B2B-Messe erfolgreich gestalten
Our support around the topic of virtual trade fairs to increase the efficiency of your digital sales:
For your holistically successful digital sales, we are also happy to support you around these topics:
Oliver Parrizas will be happy to answer any questions you may have on the subject.
+49-800-911-91-91
Book desired date